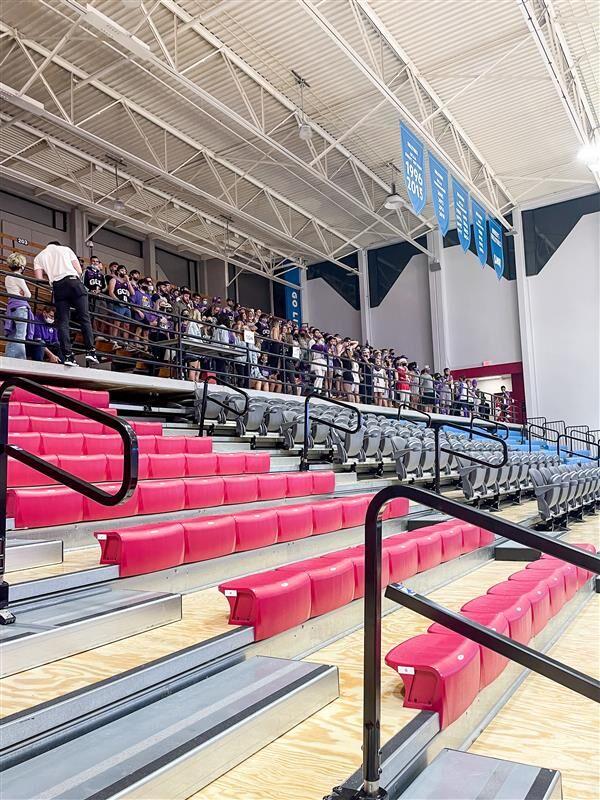 During the LMU men's basketball game versus Grand Canyon University (GCU), Gersten Pavilion was rocking. Students filled the stands, cheering, chanting and taunting their opposition. It was the loudest game in weeks, with raucous cheers and whistles echoing after nearly every play. But the fans weren't wearing LMU's crimson and blue — they were wearing GCU purple.
LMU men's basketball hosted GCU on Nov. 29, but one would think it was the other way around. The Havocs, GCU's student cheering section, were out in full force, filling over two sections in the upper deck of the arena, and outnumbering LMU students at certain points of the game. They had followed their team on a California road trip, visiting Pepperdine for a game a few days before stopping at LMU. Hundreds of GCU students turned out in their gameday best, ranging from costumes depicting Santa, referees and basketball hoops, to striped suspenders without shirts and every purple article of clothing imaginable.
The section was electric, leading choreographed cheers, shouting numerous chants, and even booing LMU in their own arena. According to Josh Gillespie, the president of the Havocs, that's just how they like it.
"We like to call ourselves the biggest party in college basketball," said Gillespie. "We want all the students to come and just have a good time. It's supposed to be a relaxing atmosphere, as far as you just come and you're free and you're going crazy the whole time."
While the GCU event was a recent and particularly stinging hit to the pride of LMU fans, it seems to be just the latest installment in an ongoing issue — why don't students seem to care about LMU sports?
To me, there seem to be several possibilities for the disappointing show of school spirit lately.
First, the University has a prime location in L.A., regarded as one of the greatest sports cities in the world. L.A. currently hosts numerous professional sports teams, which garner millions of fans from all over the world. Some may call this a distraction, with too many things to focus on at once. I call it an environment that clearly loves sports, and where LMU should easily fit in. It's not like LMU's program is shabby either — the University sponsors 20 varsity teams that compete in Division I of the NCAA, automatically putting them in the company of the nation's greatest collegiate athletics programs. Even amongst other local college athletics powerhouses, like USC and UCLA, LMU's athletics have carved out a niche, with several sports reaching recent success.
Last season, men's basketball finished third in the West Coast Conference. Men's soccer recently finished an impressive season capped off with several all-conference honors. Baseball reached the NCAA tournament in 2019 for the first time in nearly two decades, and in 2015, women's soccer and volleyball both advanced to their respective NCAA Tournament Sweet Sixteens. By all means, there seems to be plenty to cheer for.
Second, the pandemic has changed life for all of us. We've been hearing those words for over a year now. Now, sports are back on campus, but it seems like that news hasn't fully sunk in. While I don't think that students are necessarily concerned with the implications of being in a crowded stadium with others, I do think it's possible that people got out of the habit of attending live sports and haven't gotten back into it yet.
However, I think the bigger issue may be that the student body that represented LMU before the pandemic is not the same one that represents it now. Two full classes have graduated and moved on from LMU during COVID-19, taking with them their passion, involvement and organizational knowledge. Those who have replaced them, now juniors and seniors, have had a huge part of their college experience impinged upon, almost eliminating the opportunity to connect with other students and take over the leadership positions left by recent graduates. In turn, this is creating a lower level of student involvement, event organization and outreach.
In previous years, LMU's own student spirit organization, known as The Cage, regularly organized events and was "a major reason for record student attendance over the last several years," according to the organization's LEO page. However, The Cage has not updated its social media accounts in nearly a year, and there is no indication that the organization is still active on campus. Repeated attempts to contact The Cage were unsuccessful.
It seems like there is a widespread attitude of apathy toward LMU Athletics, largely in part to a lack of publication or hype before events. Many times, it falls to individual teams to promote their events instead of the athletics department, student organizations or the University itself. At the time of writing, LMU men's basketball is 6-3, a respectable enough record to start the season. But that early success isn't translating into attendance yet. Even giveaways of thousands of dollars in cash prizes, gift cards and raffle items don't seem like enough to entice students to come to games consistently.
Therefore the issue reaches beyond basketball. Andrew Boeckman, a freshman sociology major and student manager of the women's volleyball team, detailed conversations between himself and volleyball coaches, where he was asked his opinions on what the team could do to improve attendance.
"'In terms of the freshmen, like, what would you guys want to see at games?'" Boeckman recounted coaches asking. "They were kind of, not pleading, but really desperately asking me, 'What do you as a student want? What do you think would incentivize your classmates to come to games?' And I was almost kind of shocked here in how desperate that he sounded, because I knew we weren't the biggest sports school in the world, but I would see pictures and videos in the past from The Cage, and I thought the student section or involvement would be bigger."
So what can be done to change the culture surrounding sports at LMU? In my opinion, there's no way to boost attendance if most people on campus don't even know events are happening. Outreach, marketing and social media goes a long way in this day and age, and that's an area that could definitely be improved upon. Media isn't the only way to connect with people, though — we see student organizations tabling on Palm Walk and during Wellness Wednesday every week. Maybe getting teams out there and making sure students know they're active will help. However, I do think that the responsibility should not fall on individual teams alone. LMU Athletics can be more involved in promoting events, as could the University as a whole — LMU promotes other events happening on campus, why shouldn't they support their student-athletes as well?
When it comes down to it, there's not much that can't be improved with money. While LMU has invested in their teams in recent years, with improvements of facilities, new coaches and the University-wide rebranding, it seems that the University's focus still isn't directed toward creating a high-level, competitive sports atmosphere. We have willing donors. We pay thousands of dollars a year to be here. We don't have a football team. There's no reason not to commit to the future — and present — of LMU sports.
If all these aspects come together, I believe we could be on the edge of a new era of LMU sports. If we are, we'll hear the Lions roar once again.
This is the opinion of Catherine Galanti, a freshman journalism major from Los Angeles. Email comments to mthomas@theloyolan.com. Tweet comments to @LALoyolan and like the Loyolan on Facebook.