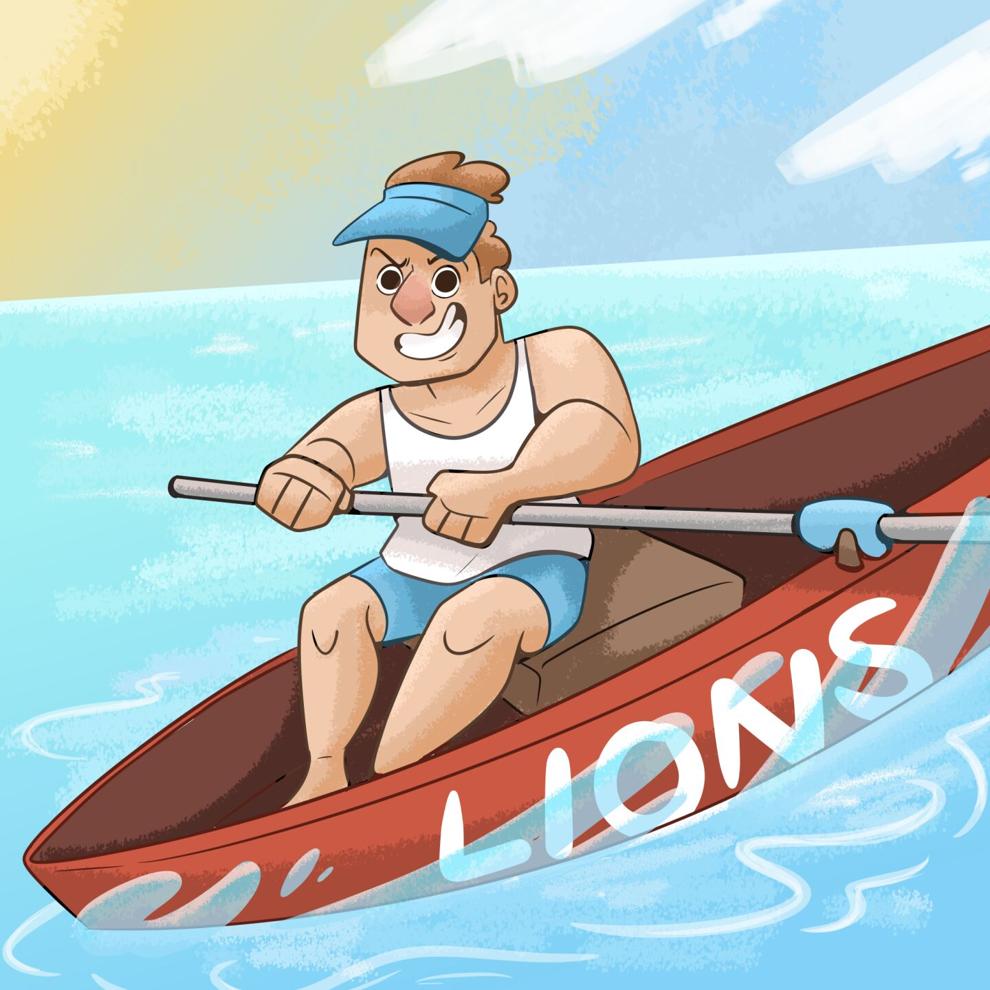 When most LMU students think of college athletics, events like March Madness, the College Football Playoff and the College World Series come to mind. However, there are so many other sports that fall under the NCAA umbrella that many people on the Bluff don't seem to get exposed to, and one of these sports is rowing.
Rowing — also known as crew — is pretty self-explanatory. Boats full of rowers from different schools race. That's it. I should add that this is a wild oversimplification of one of the most difficult sports there is, but for all intents and purposes, that's all you need to know to get started in your enjoyment of rowing.
At LMU, seeing as there is no body of water sufficient enough to house a rowing practice, the Lions conduct most of their training off-campus. "We have a boat house that is offsite in ... Marina Del Rey," said Director of Rowing and Head Women's Coach Allison Foster. "The student-athlete's time is spent not just going to practice across the campus but having to coordinate carpools and [transporting] themselves to the primary workout facility."
In total, LMU rowing teams conducts around nine practices a week, including days with two practices. It is important to note that the rowing teams do some of their training on our campus, with the use of rowing machines and a weight room. All of the training, on water or on land, is done in an effort to work on technique, strength training and conditioning to perfect their craft for the often-grueling physical experience of race days.
This hybrid form of training makes this program very unique amongst the other Division One teams at LMU. Naturally, this poses many challenges for these athletes beyond the already brutal toll that the sport of rowing can take on someone's body. This includes sharing the marina with other people, learning to work in perfect unison with teammates and even learning your way around the boat house.
Another thing that makes this sport and program different from many others is the varying experience across team members. "Rowing is a sport that you can learn at any age," said Foster. "[The team] helping those who are still learning get along and get the skillsets they need to move along and be able to contribute at the high level … that's definitely a unique challenge."
Outside of the general challenges of operation comes the absence of a spotlight on campus for these athletes. Obviously, the fact that the program competes entirely off-campus is a huge contributing factor. But even then, this lack of acknowledgement does not seem to bother anyone in the program. "Most of these men and women on the team are not doing it because they get the fan crowd or the support. Those are the bonus moments," said Foster. "They do it for their teammates… that's the selfless beautiful part too."
Still, the program is always happy and excited when people choose to go out and support the team despite the sport not being the most viewer friendly. "It's hard to watch at the 2,000 meter race, which is about a six-and-a-half-minute race," said Foster.
Personally, I think we — as LMU sports fans — should be excited about this program not only for the dedication that these athletes put in, but also because of how unique and special it is to have a sport like rowing. The best opportunity to go show your support for LMU rowing comes on April 22 for the women's rowing against the University of California, Los Angeles.
"Come out to the race … it's our senior day, and we will be acknowledging our seniors," said Foster. "That's one of the best ways to show up for rowers is to show up on race day… I always tell professors when I meet them on campus that they are always welcome to the boathouse," concluded Foster.