Sam Fischer's resume is impressive. In her time at LMU, she became the first All-American in school history, the first four-time first-team All-Pacific Coast Softball Conference selection, and set program records in home runs, RBI, total bases, batting average, slugging percentage, runs scored, doubles and walks — and that's not even including her career post-college.
In 2019, Fischer had her number retired and was elected to the LMU Hall of Fame, joining LMU legends like Hank Gathers, Bo Kimble, Billy Bean and Kealani Kimball. However, the list of her accomplishments wasn't completed yet. At the beginning of this year, Fischer got the call that she would also be inducted into the West Coast Conference Hall of Honor. Even though she is regarded as being the greatest softball player to come from LMU, Fischer recounted that being inducted to LMU's Hall of Fame was an accomplishment "beyond anything she could have ever imagined," and hearing she had been named to the WCC Hall of Honor was somewhat of a surprise.
"It really is such an honor. It's such a big deal for me ... Some of the names in the WCC Hall of Honor are crazy. Hank and Bo are in there. John Stockton is in there, Kurt Rambis, you have all these amazing greats from our conference — and some from our school — that now I get to go and be in the same group," she said. "It just blows my mind. I can't articulate how amazing it is. But I'm so honored and I'm so proud, and I'm so excited and happy, and it just makes me want to keep on doing what I've been doing this whole time."
Fischer's career began long before she joined the Lions in 2009. She started playing softball at a young age, and immediately became hooked.
"I still remember the first time I ever hit one over the neighbor's fence and thought, 'Okay, this, I can make my whole personality based just on this feeling right here,'" said Fischer. "That's how I got into it, and then just kind of kept growing from there. The older I got, the better I got. The more I got to do with it, the more I just continued to fall in love with it."
Fischer continued to make a name for herself as she grew up, collecting plenty of awards while attending Simi Valley High School. However, her time at LMU still stands out as one of the highlights of her playing career.
"I love LMU. I'm that person who just brings it up in conversation. [Division I softball rankings were just released] and people are tweeting about it and texting about it, like 'who do you think is making the postseason?' And every time, I just text back 'LMU'… It's a special place. It's an amazing place. It's an honor to have been able to go there and it's truly an honor to represent it."
Her favorite memory from LMU? "Everything," she said. Though one particular moment stands out: hitting a walk-off grand slam against California State University, Sacramento in her last at-bat of the last home game of her senior year.
"You can't write it better than that," said Fischer.
Memories like that are just part of why Fischer is so passionate about her time at LMU, even a decade after she left the team and the University.
"I feel so lucky to feel the way I feel about LMU. Our teams just had a lot of fun. We had a great group of girls who were talented too … I'm still in touch with so many of the girls that I played with. We're all still really good friends. Those connections and relationships that we built ... [they] have lasted over 10 years past graduation."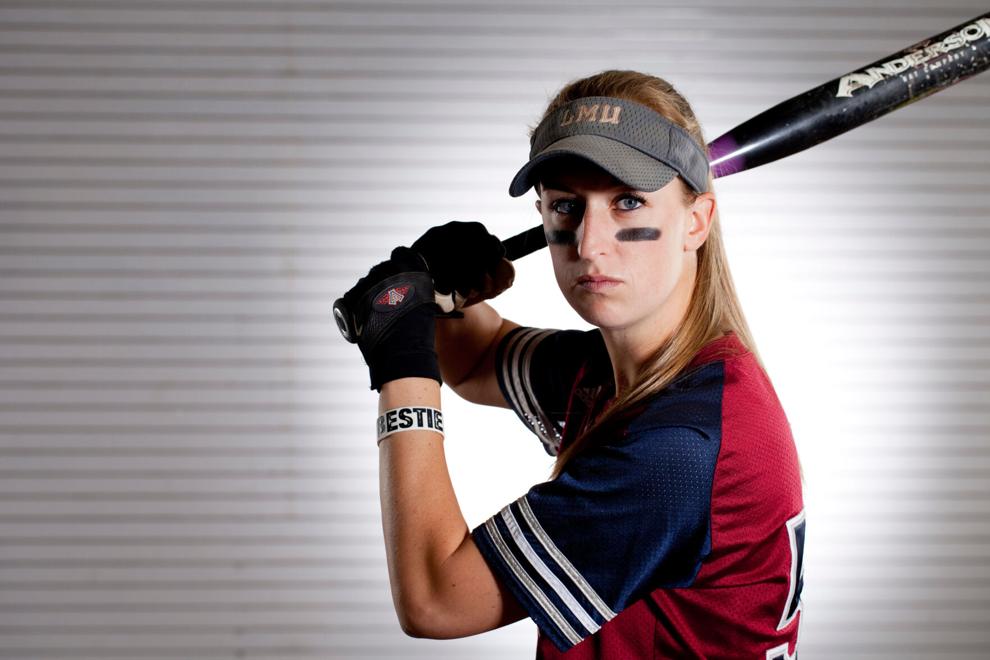 While many people try to get a job or internship after graduation, Fischer's first post-grad venture had higher stakes. After graduation, Fischer joined Team USA Softball, and became the first player to represent LMU on a national level.
"I got the email that I was invited to try out for Team USA when we were still in season, my senior year. I just remember [thinking] 'This was the best moment of my life' and it was just getting the invite. I thought, 'Okay, can't get much better than this.' Then trying out and making it was just a whole other level. I still don't think I could put it into words how great it really felt, but it was an honor. It was an honor to play and represent the country in this sport that I love," said Fischer. "But also, a piece of it too was representing LMU. That was so special to me — that's something that still is carried through. LMU is on my glove. It's always just been really cool to represent LMU on the bigger stages. I unfortunately didn't get to go to any postseason tournaments or anything with LMU, like they got to go last year, but just being able to have that with me through everything has been so cool."
Additionally, as part of Team USA, Fischer had the opportunity to play in Japan, where she led the team to a gold medal in the Japan Cup.
"For softball, going to Japan is like, you made it. That is the big time. There's not a lot of opportunity. At the time there were probably only 10 Americans over there. It's crazy. It's crazy competitive, but I learned a lot about myself. I learned a lot about how I'm able to adapt to challenges. It's its own challenge playing softball for one, but then living in a totally different country [is a challenge as well]. I loved my team. I loved the places I was able to go and see and the food I was able to eat. Oh my gosh. Everything was just so great."
As if moving across the world to work in a very competitive environment wasn't enough, one other challenge Fischer faced in Japan was, of course, the language barrier.
"Have you ever seen the movie Mean Girls? Okay. So, you know how Cady was saying something about math, how she's like, 'it's the same in every [country]?' That's how I felt being in Japan," Fischer explained, laughing. "I'm like, we don't speak the same language, but we all speak softball. I remember, I'm like, 'This is such a nerdy moment,' but we are all speaking the same language on the field. I just think that was so cool."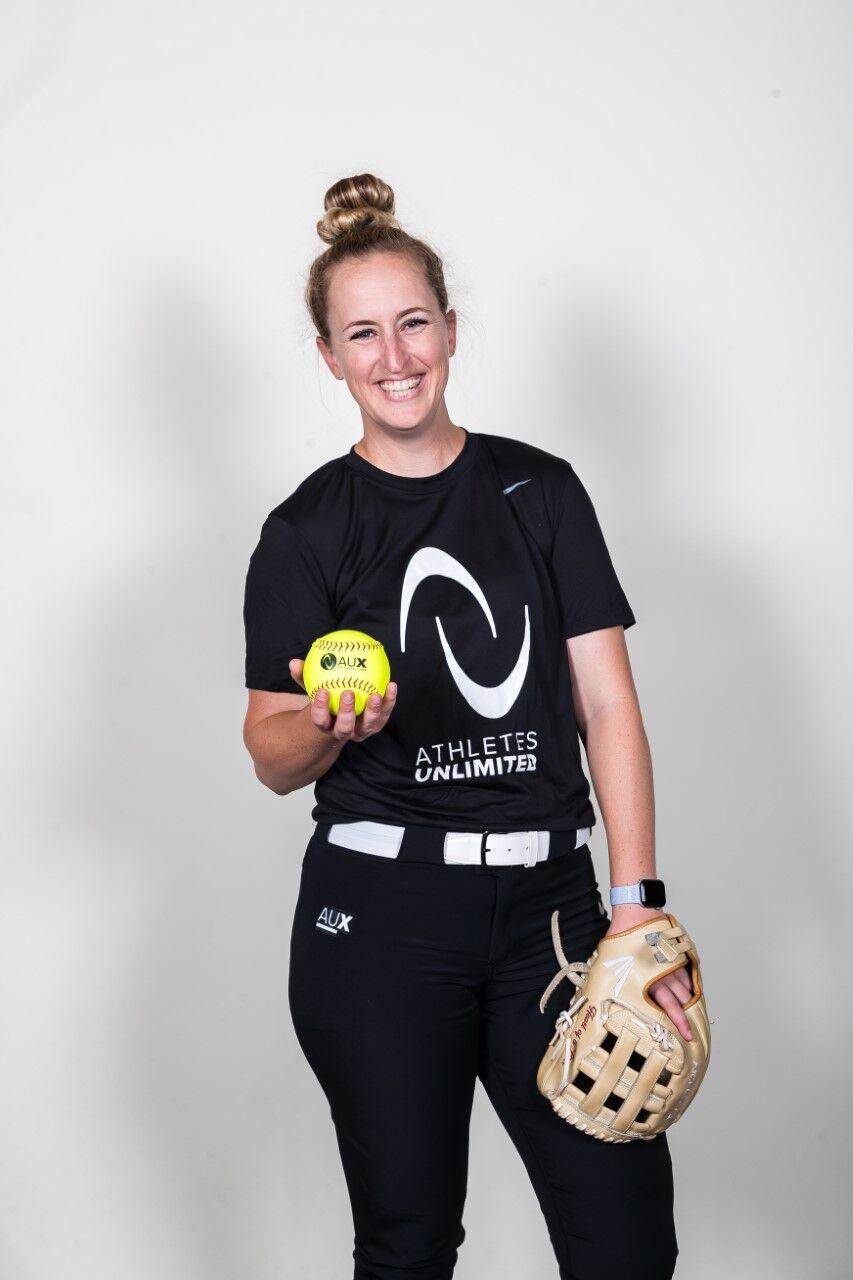 Fischer also played professionally in the National Pro Fastpitch League, which disbanded in 2021, as well as playing for an independent team in Houston before joining Athletes Unlimited, which is a new initiative that supports professional women's leagues in basketball, volleyball, softball and lacrosse.
While Fischer's playing career isn't done yet, she is starting to think about what will happen next. One option is staying involved in the administrative side of Athletes Unlimited whenever her playing days may be finished. Fischer currently serves on the player's executive committee for the Athletes Unlimited softball league, where as a chairperson of the board, she is involved with behind-the-scenes decision making and player advocacy. According to her, being involved with the program has shown her that there's more to her passion for the game than what happens on the field.
"I'd like to think I could play until I'm 80, but you have to be realistic at some point," she said. "Working behind the scenes has really made me realize I want to still be in the fight. I want to still be there for female athletes. I want to keep kicking down doors and make it to where my story isn't unique. Right now, there are not a lot of people that come from really small schools and mid-majors that make it to the pros. I don't want it to be unique anymore. I want the opportunity to keep growing and for kids to be able to go to the small schools and still have the big dreams."
Through a lifetime of playing, some lessons still stand out to Fischer. One of the most important ones is the ability to trust herself and the people around her. This philosophy was reinforced by former LMU head coach, Gary Ferrin, who passed away in October.
"[Coach Ferrin] was like, 'I recruited you because of you. I don't want you to get here and then [have] me change who you are, because why would I have recruited you?'" Fischer said. "My parents have been really supportive in that too, even when I was little, like, 'All right Sam, you're a little bit of a weirdo, but we love that for you.' … [What's important] is just embracing who you are and getting to know yourself, trying things and if you hate it, so what? If you don't want to do what other people are doing, so what? They can go do that, and you can find something that you love to do."
Overall, no matter where Fischer's career has taken her — or what's still to come — she attributes her start to LMU, but who she is and how she plays is completely Sam Fischer.
"What's funny is, the more that I've played at the bigger pro programs, like playing professional, playing with Team USA, I realized that we didn't get a whole lot at LMU when I was there. Now they've gotten a lot more funding through the program, but we didn't get a whole lot and we still managed to make so much happen. We still managed to play good softball and have fun," she said. "I think for me, in my career as a player, [what has been important is] just being myself and tapping into what I've always known, and that's just going out and working hard. That's something that has stuck with me through all the different levels and different challenges that have come across in all the different areas that I've played."