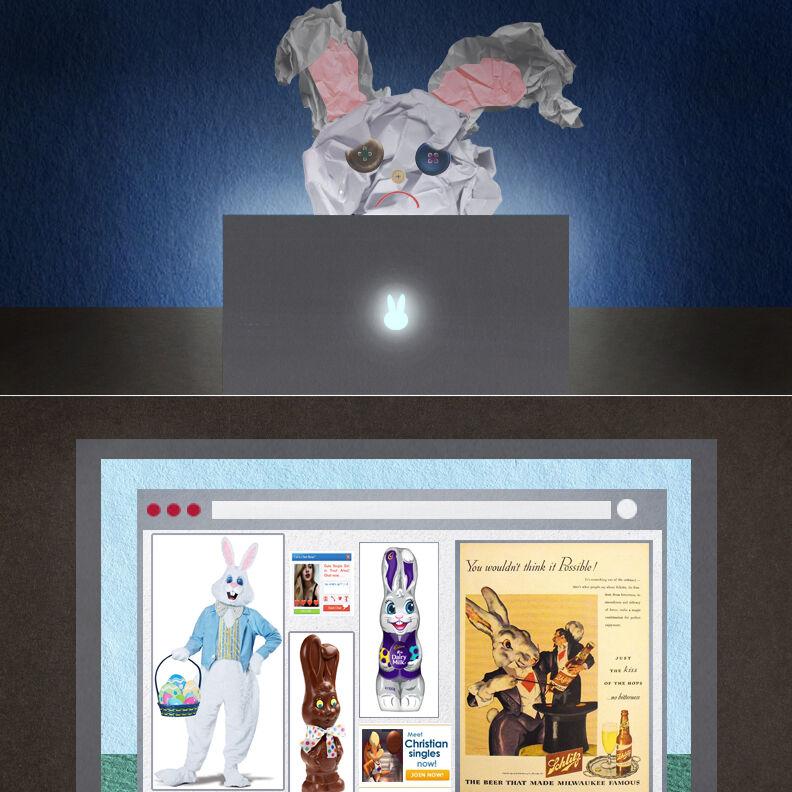 When it comes to holidays, it's fair to assume that everyone conjures up similar images of what each day connotes. St. Patrick's Day? You might think of four leaf clovers and a jolly ginger leprechaun. Thanksgiving? Plates full of food and a plump turkey waiting to be cooked.
One holiday mascot opened up about his experience dealing with the public pressure to maintain his image as the hoppy young rabbit audiences expect to grace the lavender bag of peanut M&M's that'll be on sale at CVS by the end of next week. The world's most beloved Oryctolagus cuniculus recently shared on Instagram that he will be taking a "social media break" due to body image issues and "the stress of being the second baddest bunny in the world." He then posted a selfie 15 minutes later captioned: "Back from my social media break. Luv u guys."
Following his rather brief social media hiatus, the Easter Bunny sat down with the Bluff to further discuss his struggles in the limelight.
"Every April, I have to walk around and see my face everywhere," said Bunny. "Except, it's not actually my face. Like, cool it with the Facetune. One that note, I don't remember my manager allowing my copyrighted face to be used to promote 50% deals from Shein or special edition creatine supplements. It's seriously low class."
When the Easter season rolls around, it's common for large brands to use the holiday to promote their products, often employing common motifs like eggs, flowers and Bunny himself.
"The worst part about the whole holiday is that they never use recent images of me," said Bunny. "I know I've gotten older, but I'm still great-looking. Some might call my septum piercing, mustache and sleeve of patchwork tattoos I stole off of Pinterest a quarter-life crisis, but I think they look cool. Maybe they can use me now to engage a new audience, like dudes from Minnesota who moved to Silver Lake to gaslight women and drink overpriced matcha. Think about the advertising potential!"
Despite advertiser's refusal to use images of Bunny's more recent appearance, he still remains hopeful — rather HOPful — about the future.
"I'm sure we'll see a change as soon as brands try to come off as more relatable. I mean, I'm not the only one who's had to deal with this. Santa's really an old stoner who drives around in a red 2004 Toyota Camry pulled by squirrels. The St. Patrick's Day leprechaun? He's an angry, short Bostonian who constantly gets too drunk, and his hair isn't even naturally red. Don't even get me started on that turkey."