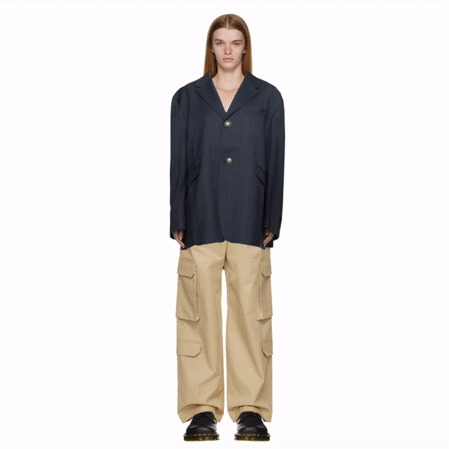 The dawn of a new year offers an exciting opportunity for the development of personal style. Everyone has the chance to reinvent their wardrobe and usher in a new set of fashion sensibilities.
With so many voices coming at you from all angles about what you should and shouldn't wear, it can get overwhelming deciding just what poorly-sewn top to choose off the rack at Zara. If you're finding yourself stumped, check out our comprehensive list of what's in and out this year. You can trust the Bluff. We've never lied to you.
OUT: Dr. Martens
After years of dominating the boot market, this so-called "timeless" shoe has finally met its demise. Dr. Martens' status in the shoe world was affected by a massive reduction in quality after a change in ownership in 2018, leading to an epidemic of emo middle schoolers leaving severed boot soles in the hallways on their way to science class. If you're still wearing these shoes in 2023, you better schedule an appointment with Dr. Marten; that yellow stitching has to be burning your retinas by now.
IN: Heeled sneakers
There's nothing that combines the practicality of a trusty tennis shoe with the elegance of a Christian Louboutin stiletto better than a pair of heeled sneakers. With the marriage of romantic styling and athletic lines emerging as a trending idea in 2023, this is the perfect time to bring back a classic footwear silhouette from the early 2010s. Whether it's a spike-heeled pair of Reeboks or a Converse wedge, this hot item is sure to transform your look from Bella-Hadid-boring to Cher-Lloyd-chic. Just don't twist an ankle.
OUT: Blazers
Nothing says uptight and basic more than wearing an oversized blazer out to drinks. Business casual should be saved for job interviews and meeting your future in-laws. I think you might have misheard the bartender when he said, "Would you like that on the rocks?" not, "Let's go trade some stocks!"
IN: Fluorescent safety vests
Gone are the days of rifling through your closet for the perfect pop of color for your outfit—just throw on a safety vest! The reflective strips running down the front create flattering lines across the torso and the uniformity creates the perfect opportunity to coordinate with your besties, including the crossing guard from your childhood elementary school. Complete the look with a construction helmet, and you'll be ready for whatever the night has in store.
OUT: Baggy jeans
If you're tired of looking like a Barbie on top and the Michelin Man on bottom, have no fear. 2023 will herald the death of baggy jeans, leaving sorority girls everywhere scrambling for a new bottom to pair their Urban Outfitters Modern Love corset with.
IN: Custom Redbubble miniskirts
In an era where everyone has access to the latest trends and hot items, it can be hard to have a completely unique style. People often associate Redbubble with quirky stickers and copyright violations disguised as fan art, but many overlook their most esoteric item: the spandex miniskirt. The beauty of the Redbubble miniskirt is that you can display just about anything you want splayed across your pelvis. From poorly drawn K-pop fan art to post-ironic millennial quotes about coffee, the Redbubble miniskirt gives everyone the opportunity to express their personal style on a cheap swath of lycra.